SPOILERS AHEAD!
This section contains spoilers related to the story of Lobotomy Corporation.
Read ahead with caution if you want to experience the story for yourself.
"Where are my manners! My name is Malkuth! I am in charge of the control team!"
- Malkuth
Malkuth is one of the Sefirot that works for the Facility and is the head of the Control Team. That player meets her at Day 1, after Angela's introduction.
Her hair is short cut and is colored brown and yellow, with a red hairband. She has brown eyes with no pupils and a dark shadow that covers half of each of her eyes. She wears a normal business suit with a red tie and an armband with the letter of her name on it, "M". She constantly carries a pen and clipboard that is described as "almost worn out." The color associated with her in text boxes is yellow.
Malkuth's personality is very happy-go-lucky and she has a clumsy demeanor. She maintains her positive personality even when discussing with X over an employee that is locked in a room for wanting to quit the company. Malkuth is considered by Angela to be the most unstable of all of the Sefirot, but is fine with it due to her being "easy to control".
A list of Malkuth's missions can be found here: LINK.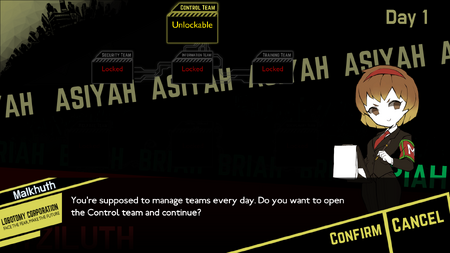 "I am always struggling, so I need something that reminds me of what to do next." - Malkuth
Not much is described about Malkuth through her story besides the fact that she has to work harder than the other Sefirot, that she is "always struggling", and that she accidentally released abnormalities several times when she was new to the company.
Her story also brings up her notebook being "almost worn out" which is referenced later on in Tiphereth's dialogue: "Mind your notebook! It would be torn apart soon, by the look of it."
Relationships
Edit
Malkuth is extremely friendly to X throughout her dialogues.
Angela secretly considers Malkuth to be the "worst" of the Sefirot, although she states she "can't complain as she is easy to control, though."
Tiphereth (Female) considers all of the Upper Sefirot (ASIYAH) to be the same, stating: "Why are you upper guys all the same? Netzach is not busy at all! It just doesn't want to move!"
Story Mode Spoilers!
Tiphereth (Female) also seems to have a bit of passive-aggressiveness towards Malkuth's comment on the replacement of Tiphereth (Male)
While not specifically stated, it can be inferred from Malkuth's personality that she is friendly to all the other Sefirot.
Story Mode Spoilers!
With the exception of when the other Sefirot are talking to Malkuth about her team being unable to handle the suppression of Ordeals.
Post-Meltdown
Edit
WARNING WARNING WARNING WARNING WARNING WARNING WARNING WARNING WARNING
EXPRESSION OF QLIPHA DUE TO SEPHIRAH MELTDOWN.
Require of Sephirah Core Suppression.
THIS SECTION HAS MAJOR SPOILERS, READ AT YOUR OWN RISK!
WARNING WARNING WARNING WARNING WARNING WARNING WARNING WARNING WARNING
Once the Player completes Malkuth's Meltdown the Cognition Filter that hides her true appearance as a robot is lowered. Certain story elements are revealed such as Malkuth's past name of Elijah and her severe injury or death caused by her attempting a Cogito experiment before she was ready.
Ad blocker interference detected!
Wikia is a free-to-use site that makes money from advertising. We have a modified experience for viewers using ad blockers

Wikia is not accessible if you've made further modifications. Remove the custom ad blocker rule(s) and the page will load as expected.